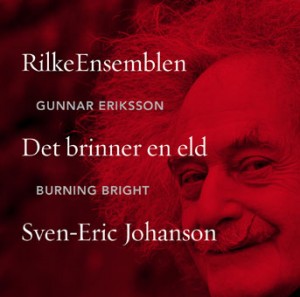 Footprint records 2010 FRCD041
Recorded in Hemsjö and Forshälla churches by Per Sjösten
Sven-Eric Johanson var en av Sveriges flitigaste tonsättare, kanske särskilt när det gäller körmusik – allt från små enkla visor till väldiga körverk.
RilkeEnsemblen samarbetade ofta med Sven-Eric Johanson och fick några fina tonsättningar av honom, bland annat några till texter av Rainer Maria Rilke. (Att ensemblen heter som den gör hänger ihop med att man från början arbetade med Sven-Eric Johansons tonsättning av Rilkes Duinoelegi nr 7, en körsymfoni som visade sig kräva en större kör än det dussintal sångare som utgjorde ensemblen.)
På denna cd har Gunnar Eriksson samlat några av Sven-Eric Johansons mest kända sånger för kör och några mer sällan hörda, bland annat ur hans sviter med Ferlin-, Fröding- och Forssell-tonsättningar.
Sven-Eric Johanson was one of Sweden's most prolific composers, particularly with regard to choral music, ranging from simple tunes to large-scale choral works.
On many occasions, the Rilke Ensemble collaborated with Sven-Eric Johanson and received lovely pieces by him, including music set to poems by Rainer Maria Rilke.
(Our ensemble actually took its name from our first effort, Sven-Eric Johanson's musical interpretation of Rilke's Duinoelegi No. 7, a choral symphony which turned out to require a substantially larger choir than the dozen or so members we had.)
On this CD, Gunnar Eriksson has compiled some of Sven-Eric Johanson's most well-known choral pieces along with a few less familiar ones, such as his suites showcasing the poetry of Ferlin, Fröding, and Forssell.
Solos by sopranos Karolina Andersson and Nina Ewald. Magnus Ricklund and Magnus Eldenius play the accordion and Mats Eriksson plays guitar.
"A singularly rich musical content is what this CD has to offer. – – – The recordings are ideal and the insert is highly informative. It also includes a personal introduction by Gunnar Eriksson. – – – Surprisingly little of Johanson's choral music has been recorded previously, so this CD is definitely a must." PG Bergfors, Göteborgs-Posten. Grade: 5/5
Evabritt Selén voted Det brinner en eld as one of 2010s top three choral releases: "Paints a fine and sensitive portrait of the composer." Opus
Upsala Nya Tidning gave it 4 out of 5: "…an excellent introduction to this colourful, playful, and slightly eccentric artist, whose songs also embody existential depths and understanding of the human condition, our predicament and vulnerability. — Several of the pieces are short, occasionally less than a minute long, but they create a kind of kaleidoscopic whole where Eriksson and The Rilke Ensemble employ their pliable harmonies to also enforce the strong melodic values in Sven-Eric Johanson's music." Ulf Gustavsson
Innehåll / Contents:
Det brinner en eld
Det gläder mig
Brudvals
Jag älskar dig nu
Jag älskar hälleberget
Liten dikt till min älskade
Tillägnan
Vet du vad längtan är
Liebeslied
Der Panther
Gravskrift
Gitarr och dragharmonika
Änglakärlek
Gråbergssång
Variationer över Vi gå över daggstänkta berg
Om paddor
Mot råttor och ohyra
Triss
Gårdstango
Med många kulörta lyktor
Du har tappat ditt ord
Kärleksvisa
Inte ens
Kan du höra honom komma
En dunkel örtagård
Herren är min herde
Som sådden förnimmer Guds välbehag
Psaltare och lyra
Mitt hjärtas melodi (instrumental)
Ur Sånger i förvandlingens natt